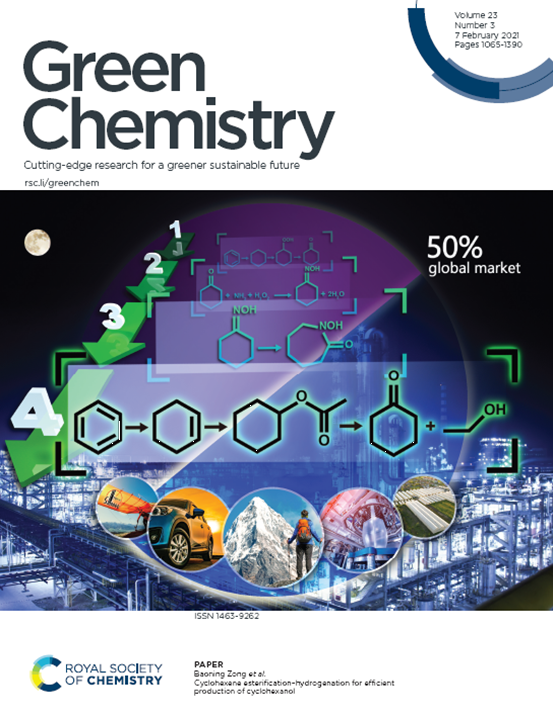 Cover Story of Green Chemistry, Feb.2021
The cover article of Green Chemistry introduced RIPP's new process for efficient production of cyclohexanol in February 2021, including the basic research and pilot plant test results.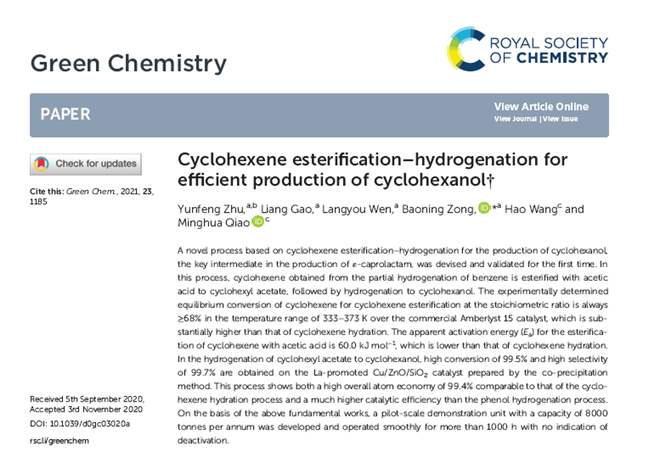 This RIPP-initiated process was successfully developed based on new reaction pathway of cyclohexene esterification–hydrogenation, integrating catalytic distillation reaction engineering and new catalytic materials. It is a comprehensive process for green cyclohexanol production featured with high conversion, selectivity and carbon atom utilization ratio all close to 100%. After the tests on a pilot-scale demonstration unit with a capacity of 8,000 tons per annum, construction of the largest production line in the world with a capacity of 400,000 tons per year was initiated in 2019, accounting for 50% of China's newly increased cyclohexanol production capacity. 30 Chinese patents and one U.S. patent were granted for the new reaction pathways, catalytic materials and reaction engineering technology involved.
The past 15 years has witnessed RIPP R&D team's unremitting efforts to this end in lab research, pilot plant tests, engineering research, process package preparation, engineering design as well as commercialization.